Tradition and quality since 1977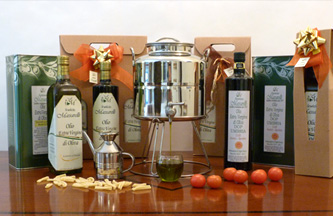 Umbro cold-pressed extravirgin olive oil.
Our extravirgin oil comes from the same variety as the DOP Umbria Colli Assisi Spoleto selection, primarily from Moraiolo, Frantoio and Leccino olives, differentiated only by the harvest period from November to December, in which the fruits present a greater degree of ripeness, allowing extraction of fuller, less piquant oil.
Our DOP Umbria Colli Assisi Spoleto extravirgin oil is obtained from olives of the Moraiolo, Frantoio and Leccino varieties, hand gathered in October and November when the ripeness of the fruits is still limited.
Philosophy

The goal of the Massarelli family is to tell a story, through its extravirgin oil, of a territory and a culture rooted in the hearts of those who tell it, of an oil that is the fruit of human effort and passion.
Tradition and innovation

Quality and tradition since 1977.
For more than thirty years, we have produced an extravirgin DOP oil of unique quality in its flavor, using the most modern pressing technologies.